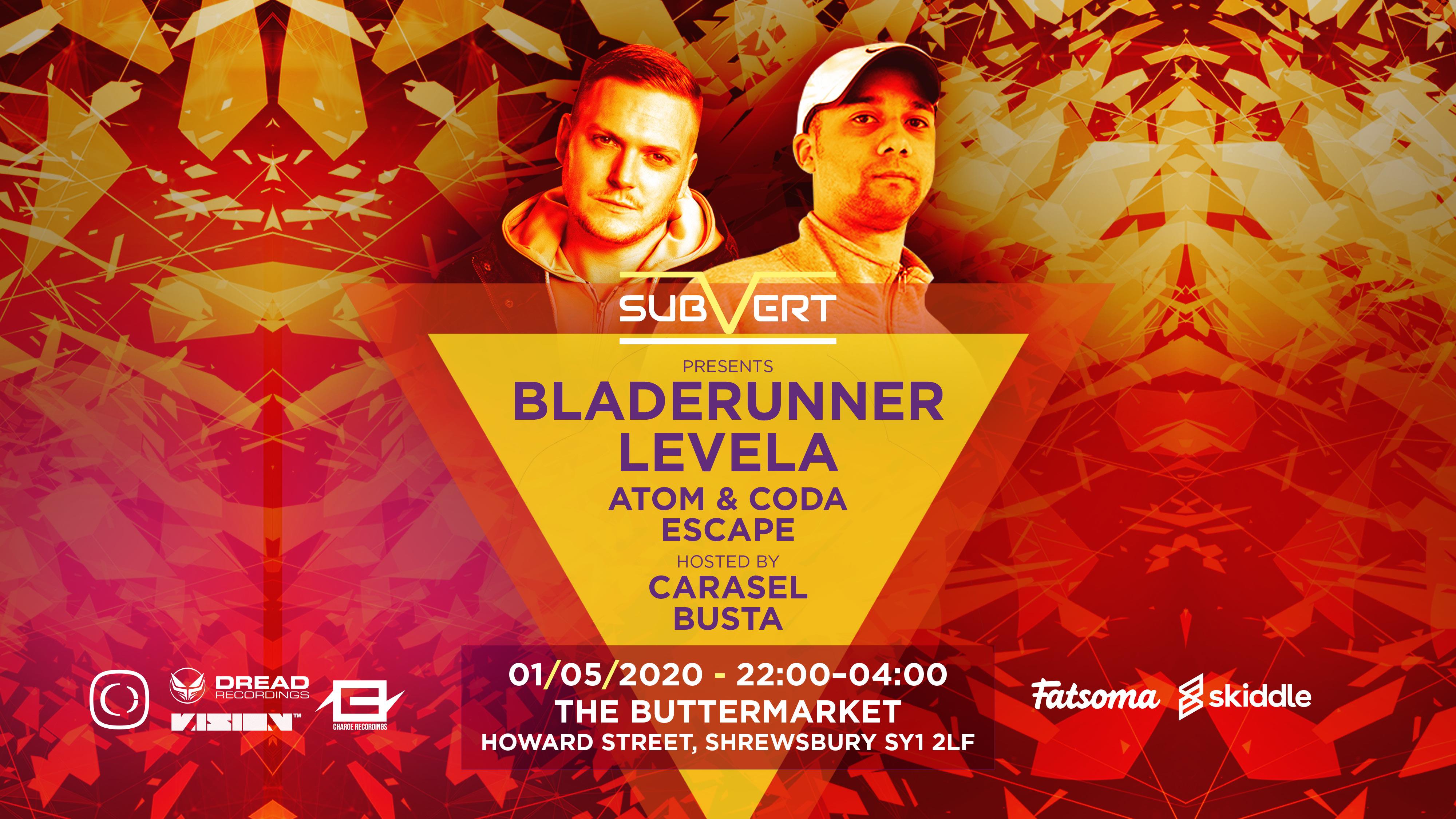 We are back for our 2nd big event of 2020 and this time we are bringing 2 more HUGE Shropshire debuts, a favourite from 2019 and a new host!  
Lineup:  
Bladerunner  
Levela  
Atom & Coda  
Escape  
Hosted by Busta & Carasel  
DJ Levela is someone we have followed for years, it's been amazing watching his music develop to the darker, deeper sound he creates today. Exhale was one of THE biggest tunes of 2018 and with a string of recent releases on labels such as Critical, Souped Up & Vision Levela has an incredible 2020 ahead.
Bladerunner. Well what do we even need to say?! A legend of the scene, Bladerunner has consistently released incredible music for years now. With releases on a variety of labels and recent tracks like Jungle Jungle, Power Up & Don't Break It. And of course not forgetting, one part of the now iconic Drum & Bass group – Kings of The Rollers. 
ATOM & Coda – Charge Recordings regulars, these guys absolutely tore the roof off The Buttermarket last year, both have had MASSIVE releases recently, including two of our favourite DnB tracks of 2019 – Dark Matter & Jaws VIP. 
Dj Escape – We added him as a Subvert resident for our Cellars nights because the guy is just a machine behind the decks, so much energy and an absolute credit to the Midlands.
Mc Busta DNB – A frequent Subvert collaborator now and one of Birmingham's most in demand hosts, his work rate and flow are incredible!
Carasel MC – Another Subvert debut for a host that has been doing bits in the scene for years, hosting some of the scenes biggest names at the biggest events, we think he will massively compliment the heavy lineup for this one.
This event will be in The Buttermarket Cellars, a venue that has hosted some of the biggest and best Drum & Bass acts over the last 2 decades. Boasting a 30k Funktion 1 sound system and state of the art visuals, it's easy to see why this is Shropshire's premier rave venue! 
Tickets: 
Early Bird Tickets – £8  
First Release – £10  
Second Release – £12  
More on the door  
The venue is 2 minutes from Shrewsbury train station and the Premier Inn Shrewsbury if you are travelling from afar and need a room!