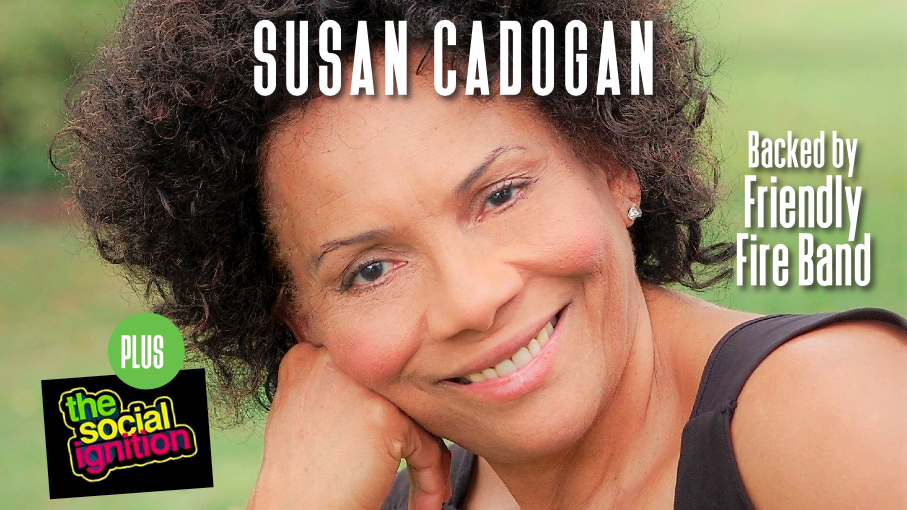 Doors open at 7pm. Gig starts at 7.30pm
Susan Cadogan topped the UK Reggae Charts with a cover of Millie Jackson's soul hit, "Hurt So Good" (featuring bassist Boris Gardiner and the Zap Pow horns), then Magnet Records picked up the single and it went on to reach the top five of the UK Singles Chart in 1975, with Cadogan flying to London to promote the single, including a television appearance on Top of the Pops.
Cadogan then signed directly to Magnet, who issued the official follow-up, the Pete Waterman-produced "Love Me Baby", which reached number 22 in July 1975, together with two mid-1970s albums, Doing It Her Way and Hurt So Good were released by Magnet and Trojan Records respectively.
Cadogan resurfaced as a recording artist in 1982, having a string of hits in Jamaica including covers of "Tracks of My Tears" and "Piece of My Heart", and 1983's "(You Know How To Make Me) Feel So Good" – a duet with Ruddy Thomas. 
Cadogan caught the music bug once more in 2001, and she performed live at the Heineken Startime Series event in Kingston. More recently, Cadogan has toured together with Glen Adams and The Slackers as well as with the Portuguese band The Ratazanas.
In 2016 she released a five-song EP, Take Me Back, and in 2017 released "Love Story", a duet with Ken Boothe.
Susan Cadogan will be backed by the Friendly Fire Band –  one of the most active live reggae and dancehall outfits in the UK's traditional reggae capital, Birmingham, both on stages and in the studio. Composed of an international lineup of musicians, Friendly Fire Band comfortably juggles traditional Roots, Dancehall or One Drop riddims, and has become an institution on the Birmingham Reggae Scene, having backed a host of artists from Dawn Penn to the late Michael Prophet, and releasing music on the Friendly Fire Music label.
In the studio, they have recorded collaborations with the cream of UK reggae artists, released on vinyl as well as digital formats on the Friendly Fire Music imprint. Collaborating with artists such as YT, Luciano, Murray Man,  Mr Williamz, Tippa Irie, Susan Cadogan, Exile Di Brave, Peppery, Claire Angel to name a few, they have enjoyed radio and soundsystem plays around the world including David Rodigan (BBC 1Xtra) who has featured successive releases on his show, and many more around the world.
With many exciting studio projects in the pipeline and a heap of festivals behind them, including repeated performances at Boomtown Fair, Shambala Festival, One Love, Reggae Garden amongst others in the UK, and further afield with shows at Sirenfest (Turkey),  Friendly Fire Band is currently taking bookings fronted by  TOMLIN MYSTIC,  MYKI TUFF, LUKAS DALEY, and  is aboard the Rum & Reggae festivals taking place around the country.
Their latest riddim album, Saturday Night re-invents the Pressure and Slide riddim, the Skandal Riddim shows the versatility of the band with its upbeat Ska-inspired rhythm, contrasting with the one drop of the Natty Love riddim and the heavy roots vibe of the Run Away 12″.